Ashtanga Yoga – the Yoga Style
Before explaining the style of Yoga training in the Ajarya Teachers Training Course, it would be wise to dwell briefly on some of the differences regarding the 2 main styles of Yoga.
Hatha Yoga
is a Science of Body purification and awakening of Pranic energy by balancing the opposite polarities in a human being.
It constitutes various steps, methods and techniques to achieve this purification. This includes
internal body cleansing techniques, practices, steady & comfortable postures.
Also included are breathing and meditative techniques.
Through these assorted techniques and
emphasis on slow & patient learning,
growth in Yoga is achieved.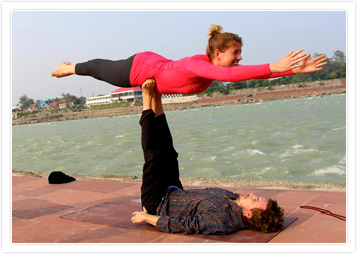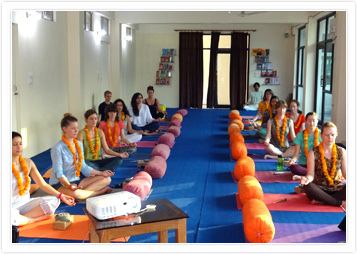 Ashtanga Vinyasa Flow Yoga,
popularly called Ashtanga Yoga, recognizes the power of the physical form and uses this to achieve growth in Yoga.
This is
a dynamic, flow yoga
where the Postures (asanas) flow in a sequence and are synchronized with breathing patterns to generate sufficient heat in the body.
Deep body purification occurs through this method removing deep rooted toxins causing disease.
The Ashtanga Series helps
build strength, improve flexibility,
relieve stress, thereby creating a general state of calmness, well-being and ease.
Natural progression in the Yogic path is achieved through this
Some broad differences are encapsulated below:
Hatha Yoga
Ashtanga Vinyasa Yoga
Suitable for Slow & Patient disposition
Suitable for Active, dynamic disposition
Involves learning assorted & esoteric practices
Involves specializing of physical practices
Uses external tools for body detox
Achieves body detox through internal heat
Requires deeper knowledge & longer time
More emphasis on perfection of Practice
Progress by Holding postures for time
Progress by increasing flexibility & strength
The Yoga at Ajarya
Understanding the significance of these 2 major styles of Yoga, the cultural profile of the trainees and yet recognizing the depth of yoga beyond these 2 styles, Ajarya has devised a unique program.
The style of this teacher training is predominantly Ashtanga Vinyasa which allows gaining the maximum benefits from the physical practice. Yet, the integral and extensive aspects of yoga including deep relaxation techniques, energy locks & gestures are given their appropriate place, so that the practitioners develop a balanced, well rounded and an in-depth approach to yoga – exactly what yoga is meant to be.
To read more on
Why the Ajarya Teacher Training program
may be suited to you,
click here