Why Ashtanga Vinyasa for your Teacher Training?
Ashtanga Vinyasa is a series of Flow Yoga postures devised by Shri Pattabhi Jois. This has gained popularity in the West due to the
Emphasis on the Physical Form for further growth in the Yoga path.
Through intense focus on body movements synchronized with breath and internal heat generated,
body purification
takes place enabling one reach the higher states of Yoga.
This makes Ashtanga better suited over other forms of Yoga (like Hatha) as an option for short 200 hour Yoga Teacher Training programs.
(A) Provides adequate learning in a short time
Ashtanga provides accelerated growth by focusing on posture flow and breathing patterns.
Other forms (like Hatha) require considerable more time than just 4 weeks for you to feel confident in practicing & teaching, because they have many aspects which is just not possible to learn within 4 weeks.
(B) Culturally better Suited for the Western profile
Ashtanga Vinyasa works by "building strength, improving flexibility, relieving stress, and thereby creating a general state of calmness, well-being and ease." This is culturally better suited to teaching Westerners with their emphasis on physical capacities. Other forms (like Hatha) use esoteric and assorted practices to achieve this, such as internal body cleansing which can be strange & difficult for many.
(C) Allows for sufficient time for Self-Development
In the Ashtanga based TTC, you will improve your SELF practice simultaneously as you 'learn to teach'.
In other forms (like Hatha) you may feel frustrated as much of your time will revolve around touching upon concepts & spiritual philosophies that your self practice and capacity to teach Postures (Asanas) may suffer.
In the end, the style depends upon
personal disposition and preference.
BUT given the time involved in Yoga Teacher Training Programs (typically 4 to 6 weeks), it might be wiser to choose a program which
leaves you fulfilled upon completion.
To read more on the differences between a Ashtanga Vinyasa or a Hatha based program,
click here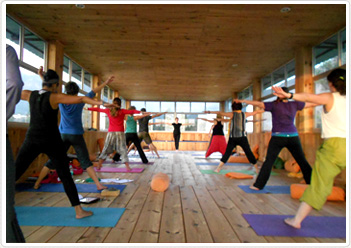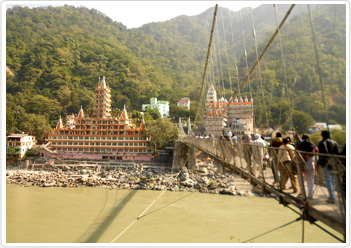 Why Rishikesh?
Rishikesh is a town
'overladen with positive vibrations'
due to the cumulative striving of spiritual growth among visitors and sincere yoga aspirants who flock to this spiritual town from all over the world.
Such is the
spiritual energy
of this place that there would hardly be a Master of Yoga since history who has not spent considerable time in this Himalayan town nestled along the river Ganges.
Rishikesh, dotted with
Ashrams & pilgrims
and surrounded by
pure nature
– the Himalayas and the Ganges makes for an ideal seat of Yoga learning.
Ajarya ensures that you are located in the midst of this spiritual ambience, with your
boarding and lodging needs taken care of
during the length of your course.
To read more on Rishikesh and your accommodations,
click here
This unique combination of an Ashtanga Vinyasa based Teacher Training Program in Rishikesh, is provided to you only by Ajarya.
We welcome you to be a part of this learning.